| | | |
| --- | --- | --- |
| | AcroYoga: A Global Play of Human Oneness | |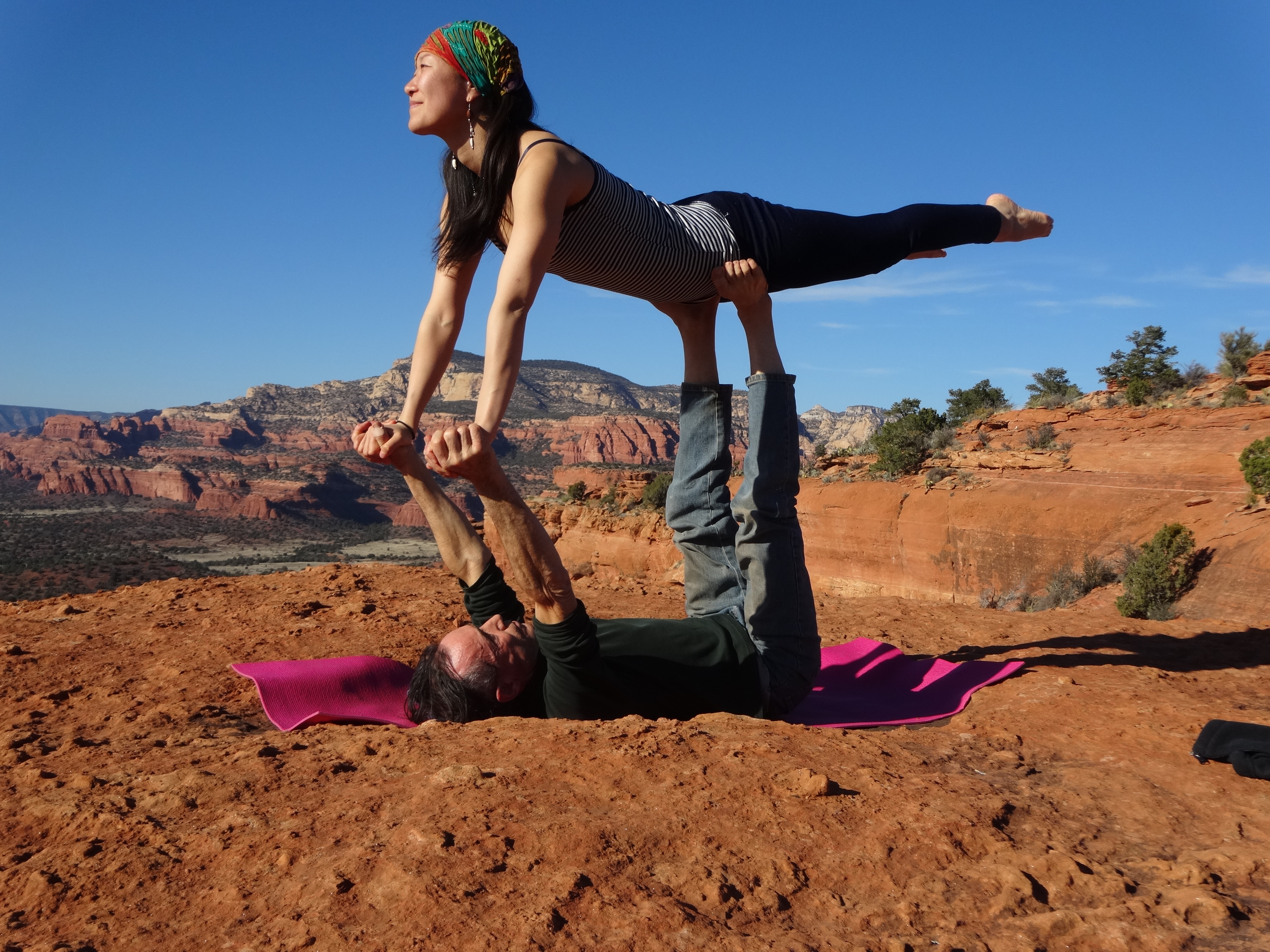 AcroYoga at CocksComb, Sedona ("The Meeting Place of the Ancients"). Aya & Ako, 2015.
2017 YouTube video: https://www.youtube.com/watch?v=iaE330iT0aA
I was instantly in love with AcroYoga when i first discovered it at a Raw Spirit Festival in Prescott, AZ. Fascinated by this new modality of "flying", looking like celestial choreography to my artist's eye, i asked for a try and got my first acro flight in the geodesic dome of Healing Arts. I have been acroyoga smiling ever since...
Now, a few years later, i know that this wonderful & world-timely practice has to be shared with the entire world, starting with schools, families and communities. It certainly has entered my personal, social & community life and i derive a lot more joy acro flying with friends that sitting around "talking"... And it will be a main immersion activity in the International School i envision...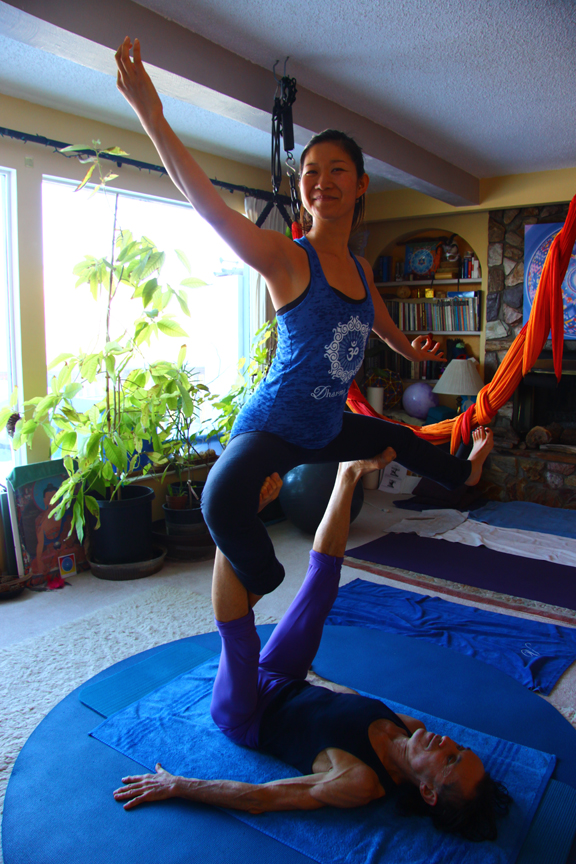 A variation of the "Throne" position. Ako & Aya, 2015.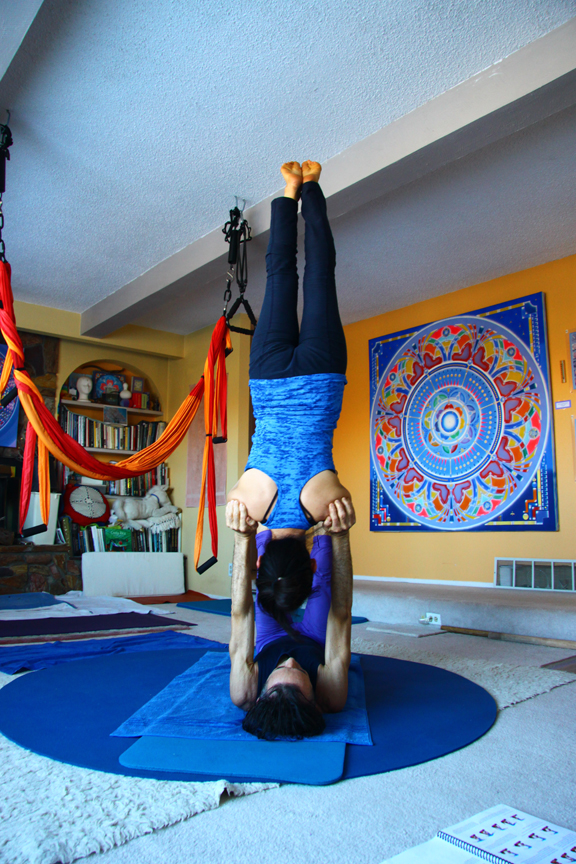 "Shoulderstand". Ako & Aya, 2015.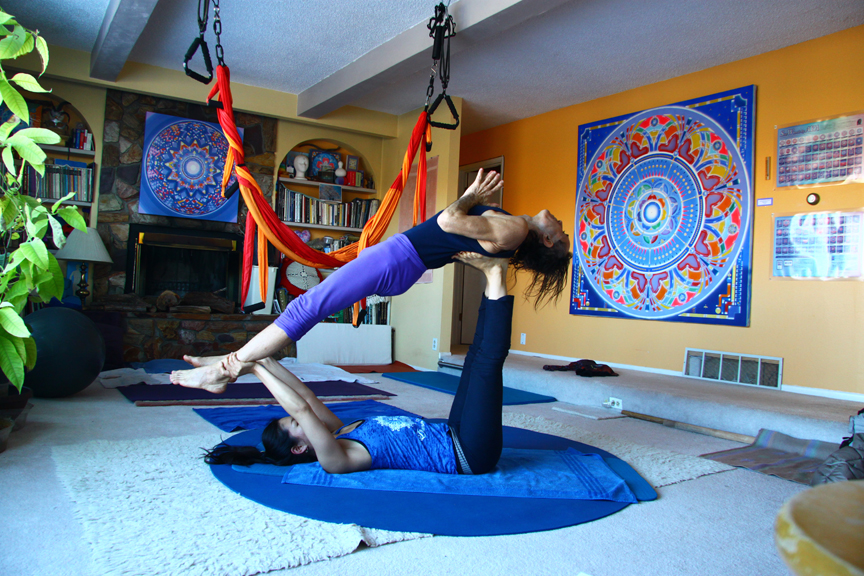 "High Flying Whale". Aya & Ako, 2015.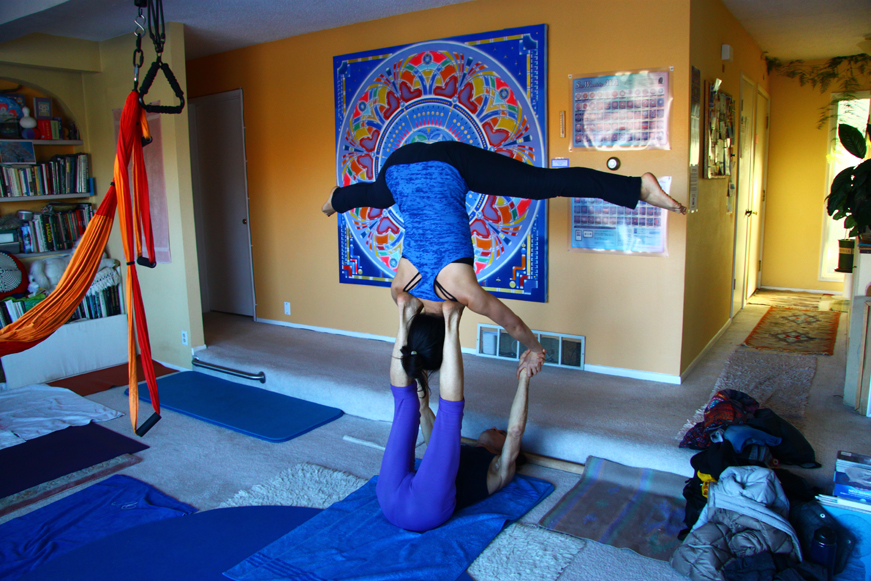 "Straddle Star". Ako & Aya, 2015.

A small info-blurb about AcroYoga,

as developed by www.acroyoga.org:

Founded in 2006 by Jason Nemer and Jenny Sauer-Klein, AcroYoga is an emerging global synthesis of partner yoga, acrobatics, Thai Massage and community building. In the words of the 2013 AcroYoga Manual (subtitled "Partner Practices for Global Unity"):

"AcroYoga is a community-based practice that encourages personal transformation... AcroYoga invites you to experience the full spectrum of your being through opportunities to: give & receive, support & be supported, experience strength & sensitivity. It is a systematic approach to health and healing designed to be accessible to every practitioner. The best part is that it is fun to do and fun to watch. It brings people together the old fashioned way, through human connection, touch and play."
With close to 400 teachers worldwide, AcroYoga is now a global practice growing by leaps & bounds. AcroYoga.org is offering three types of learning "immersions": Elemental (an overall introduction), Lunar (with emphasis on the therapeutic aspect of massage), and Solar (more advanced acrobatic balances and flows). Two editions of the Manual and two step-by-step DVDs make AcroYoga available to everyone willing to work with a dedicated partner and to practice regularly... Eventually, AcroYoga will be part of school curricula and will be a familiar scene in all the public parks around the world, as an expression of divine play and of the rich beauty of human connection.
The particularity of AcroYoga, compared to yoga,
is that you cannot practice it by yourself on your mat.
You need to find partners, engage them and learn together.

Actually AcroYoga is practiced in a triangle of awareness:
between a "base" (playing with gravity),
a "flyer" (playing with levity),
and a "spotter" who is the safety person.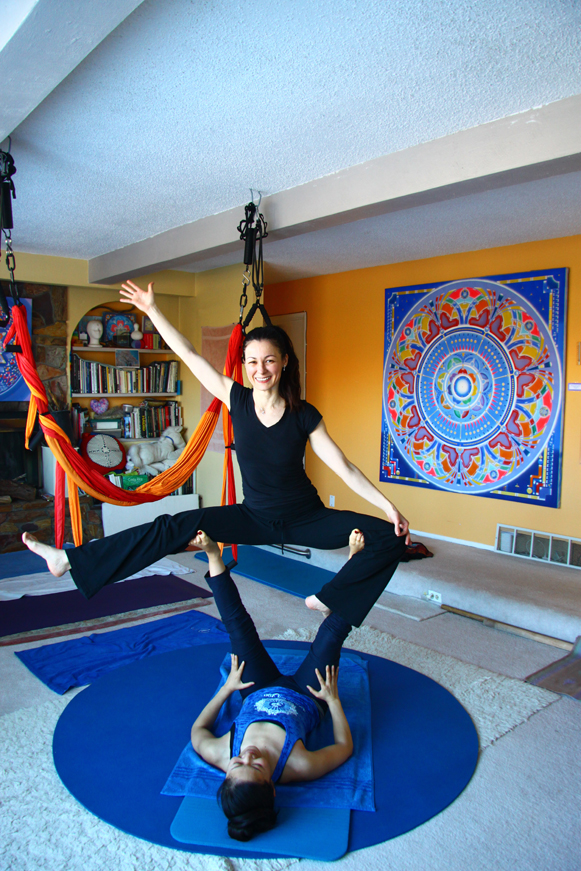 The "Mermaid" position. Ako and Lea, 2015.

Here are some of Aya's views about AcroYoga:

• AcroYoga has the potential to transform humanity from competitive units into fun-loving pods of creative beings learning again how to trust, how to receive and give, how to tumble & laugh and how to bring our human bodies into magnificent dances of harmony and celebration...

• AcroYoga is a direct gift of creative communication from people to people, bypassing all the dogmas, all the teachings and all the fears... AcroYoga is finally flying your talk... The beauty of AcroYoga is that it is impossible to practice it alone, in the corner of your own ego: you need to engage with others on deep levels of cooperation, support & understanding; you have to learn how to co-create colorful spaces of non-verbal, playful, enriching interaction, based on the inner wisdom of the body.

• Yogying and flying up in the air is the most liberating meditation i have ever experienced as it opens up moments of deep ecstatic quiet: the mind stops, all usual references of space orientation are lost and a deep joy of exploring new realms is cursing through the body-mind...

• AcroYoga is fast becoming a new global life style as it brings a common field of play and a direct encounter experience to people of all cultures & backgrounds - people who would never meet and appreciate each other otherwise.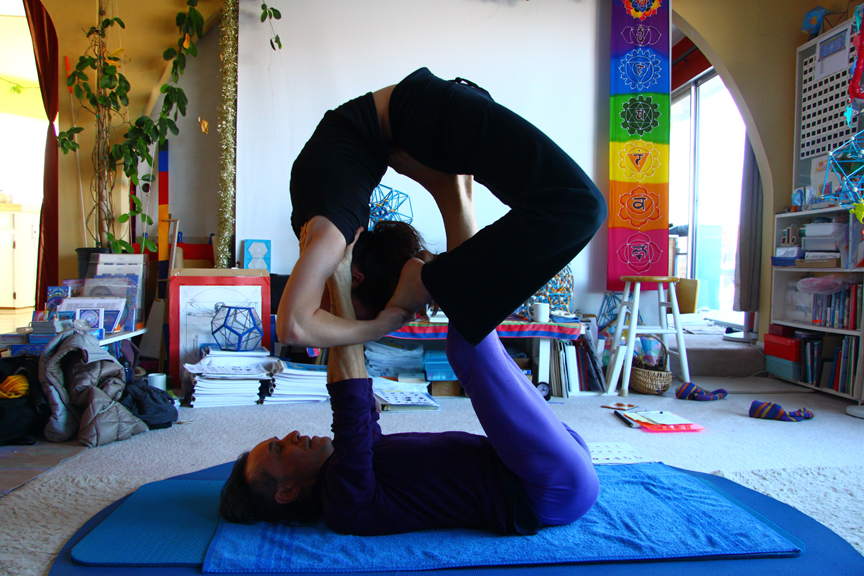 Supta Vajrasana. Aya & Lea, 2015.


After attending Divine Play 2 and two Immersions, and playing with various visiting acroyoga teachers & friends, Aya is now the AcroYoga Jam coordinator for Sedona, AZ. A regular AcroYoga Jam space is offered at the Sedona Yoga Shala since January 16th, 2015.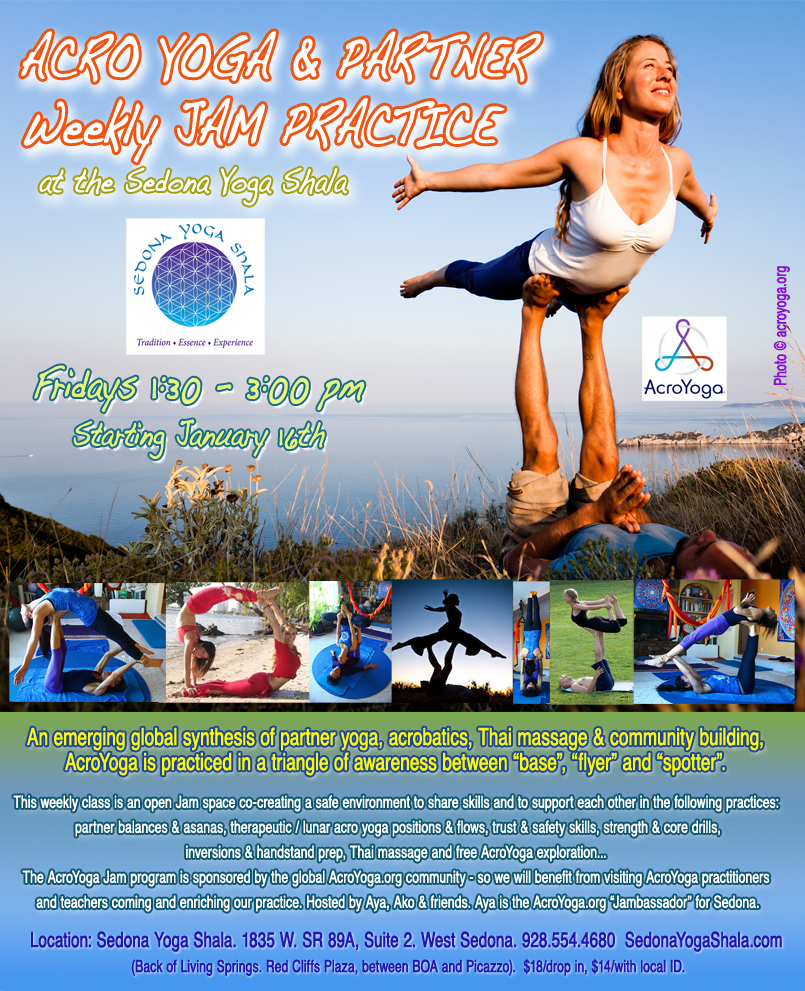 The AcroYoga & Partner Jam Class at the Sedona Yoga Shala is offered by Aya and friends. Aya is not yet a certified AcroYoga teacher; however he is the official acroyoga.org Jam facilitator (or "Jambassador") for Sedona. Aya is a passionate of AcroYoga and would like to see this practice ignite young people all over the world... Because the AcroYoga Jam program is sponsored and promoted by the global AcroYoga.org community, we will benefit from visiting AcroYoga practitioners and teachers coming and enriching our practice... See you to play and laugh...

Know thyself, support others and enjoy community.
Help AcroYoga make humanity playful.

www.acroyoga.org