| | | |
| --- | --- | --- |
| | Fundraising Now | |
Dear Friends of Aya, the StarWheel Mandalas
and the Sacred Arts,
As you may know I have held the dream-vision and intention to establish a School of Sacred Arts & Sacred Geometry in Sedona, Arizona, ever since my arrival here in 1997. I now call this global eco-campus the
StarWheel School of Celebratory Arts
. I have been working diligently towards this goal, teaching many classes in the Sedona area, creating various sacred events and spaces (such as labyrinths, medicine wheels and an arboretum garden), gathering educational toys & tools and publishing 17 school books about the sacred & symbolic design arts.
In my vision of the future, Sedona could be the
"Valley of the Thousand Temples"
, a Global School and Spiritual Garden to explore and share the new, fast blossoming paradigm of Peace & Respect for Life, in the context of a larger, ever expanding human consciousness of galactic scope.
The Children are our main Gift and Hope for this future. They deserve the best of our support and educational resources to help them learn and re-invent the new Sacred Arts & Traditions of planet Earth. They deserve to be fully encouraged in using the visionary creativity, perennial wisdom and pioneering spirit seeded in their eager awareness. They will be the Earth Keepers & Leaders in one short generation.

I am calling on you, Friends & Supporters of the StarWheel Vision, as well as all philanthropists interested in educational projects... to help the StarWheel Founation purchase a home-base property to implement the long-time dream of this StarWheel School of Celebratory Arts in Sedona.

The Short Term Fundraising Now! program was launched in 2015 to collect a sufficient downpayment enabling us to purchase a sweet home-base in West Sedona that Aya had been renting for over 8 years and turning into a sweet community. This house would have been a perfect base for the StarWheel Foundation educational projects - but has been sold before sufficient funds could secure it. We are now trusting that a larger, more appropriate property will be made available in Sedona to function as the home/office base we need to research & showcase the various projects of the StarWheel Foundation.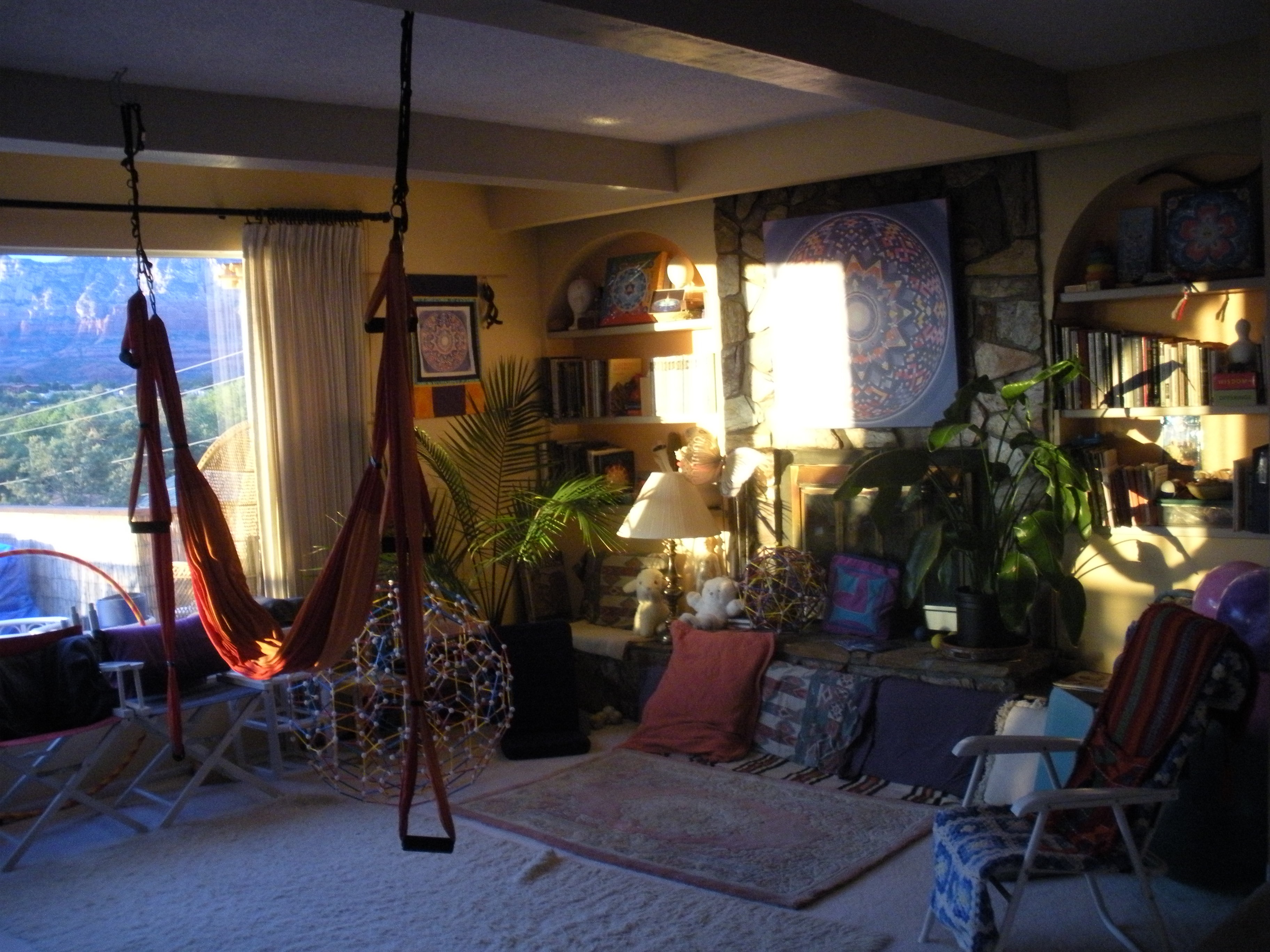 (see other
pics of the former home-base
)
The envisioned home/office base should support a general office / headquarters / yoga studio / gallery
to develop initial contacts & alliances, promote the sale of the StarWheel Collection,
create educational events highlighting
the StarWheel International Campus,
research lands & properties and put together a sound business plan
as well as various optional avenues of endowment & expansion.
Do contact Aya & the SWF Team to discuss your possibilities to be of service to humanity and the young generations of eager angels needing inspiring learning environments to help them increase their light and share it in new creative ways for the benefit of all people and kingdoms/queendoms of life upon Mother Earth. In grateful spirit of service and compassion...

Tax-exempt donations to the non-profit StarWheel Foundation (established in 1991) can be made online here or by checks (to the StarWheel Foundation at the address below). We are also looking for friendly loans against the StarWheel Collection.
Fundraising Options:
All StarWheel Wisdom cards and Giclée prints are signed by the Artist (Aya)
• $100 Gift: 1 SW Wisdom card
• $500 Gift: 6 SW Wisdom cards
• $1,000 Gift: 1 Giclée print 11" x 11" on glossy paper
(The new SW109 StarSphere and SW100 StarWave)
• $ 5,000 Gift: 24 SW Wisdom cards + 2 Giclée 11" x 11"
• $10,000 Gift: 36 SW Wisdom cards + 4 Giclée 11" x 11"
• 25,000 Gift: The 3 SW Decks (published in Japan and out of print)
+ 36 SW cards + 4 SW Giclée 11" x 11".
Thank You for your willing co-creation
of this global Blossoming of Consciousness.

Loving Blessings to You & All,

Aya
The StarWheel Foundation, a 501(c)3 non-profit educational organization

PO Box 3714 – Sedona, AZ 86340